NEOHANDLER
Mass Production
Test Handler for MEMS
OSAI neohandler is the top-notch solution for Semiconductor Companies, for testing MEMS and Power devices in mass production (up to 25KUPH). Neohandler small footprint 900 x 1.600mm saves production area, increasing drastically the throughput (UPH / m2), by using scalable concept.
High flexibility allows the customer to change setup in 15 minutes, maximizing the investment: Input / output trolley can be replaced with different magazine type and Multipick up tool can be easily and simply scaled according to the need.
The wide range of Multisocket and multipick up tools developed by OSAI, allows the customers to manage different packages. Neohandler can be properly configured with different Stimulus Chambers, according to specific MEMS to be conditioned.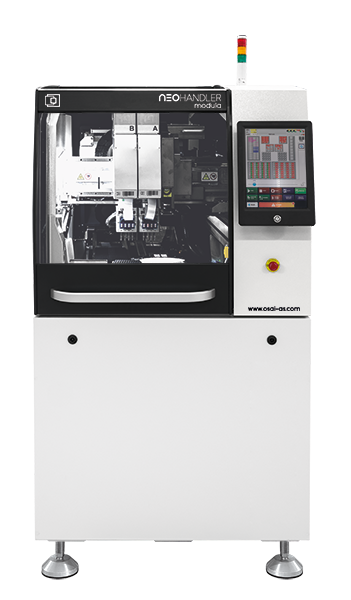 Acceptable devices packages
The Handler is conceived as a general purpose equipment.
However the full compatibility for a certain package is given from the contactors.
The Handler is compatible with the following packages: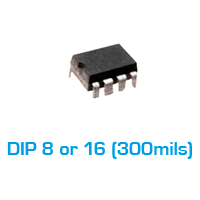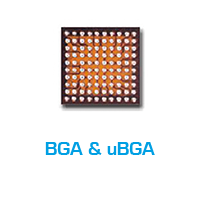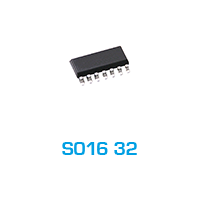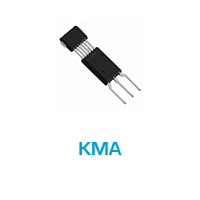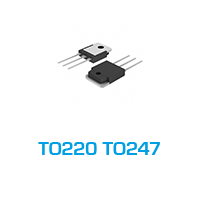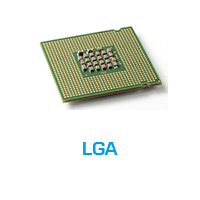 REAR SIDE TRAYS INPUT OUTPUT TROLLEY:
The Handler is equipped with an input/output trolley.

Trolley is conceived to be changed on field to reduce the setup time in case of a Handler re-configuration.
A fast changing system with a mechanical self alignment system guarantees the input output repeatability.
Trolley can be configured with different kinds of input output feeding.
Input:
Jedec Tray Feeder

Tube

Bowl

Film frame
Output: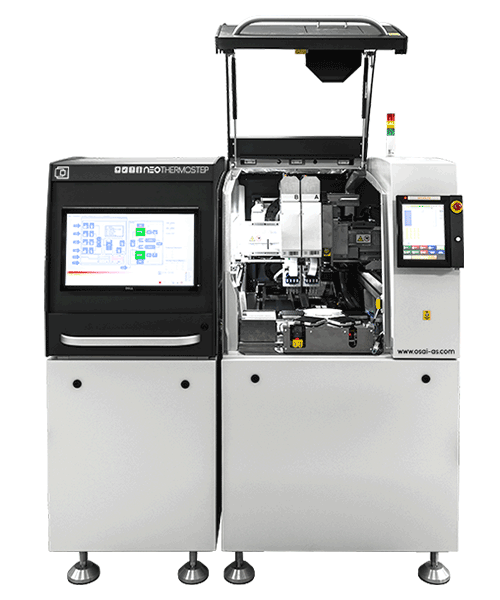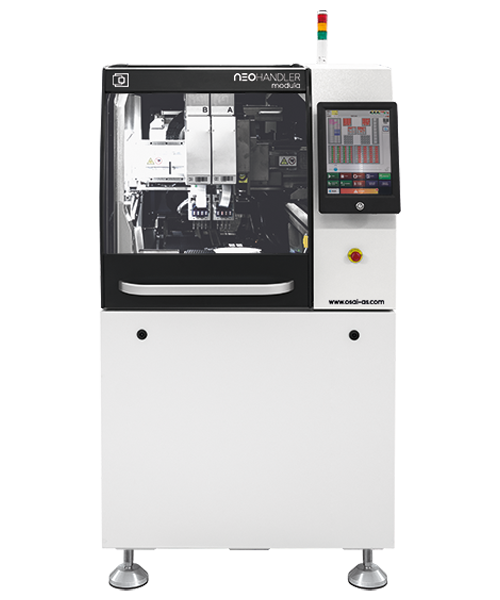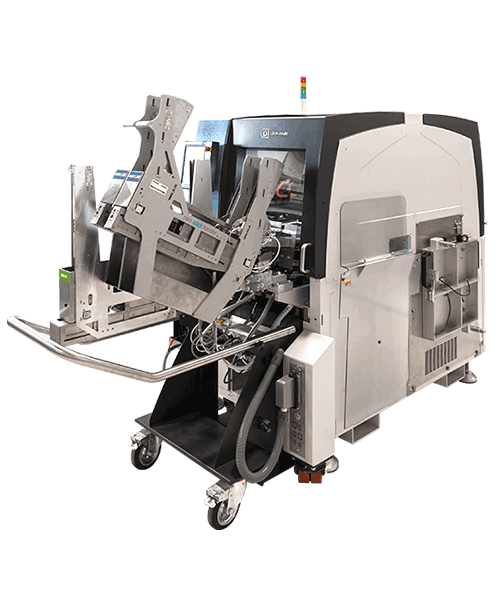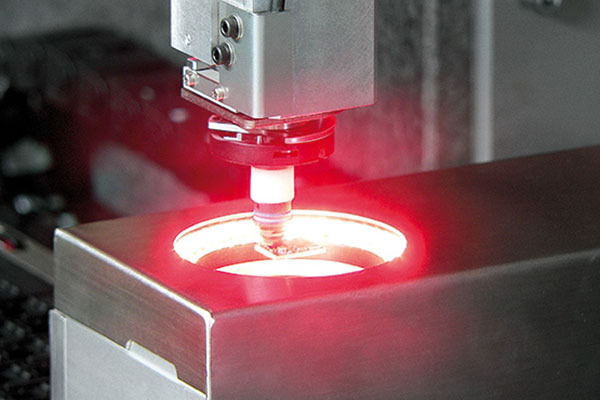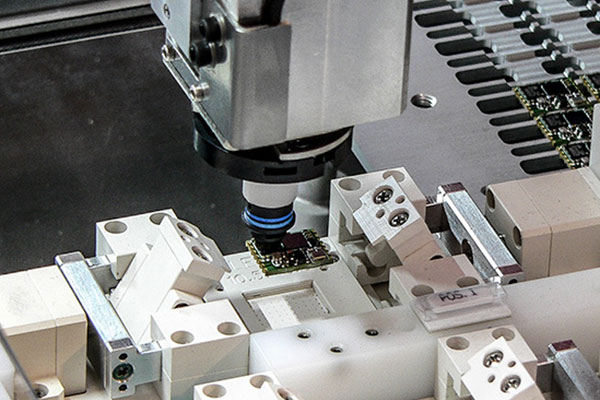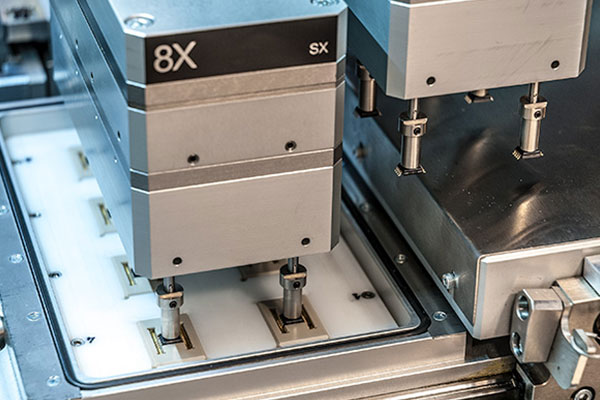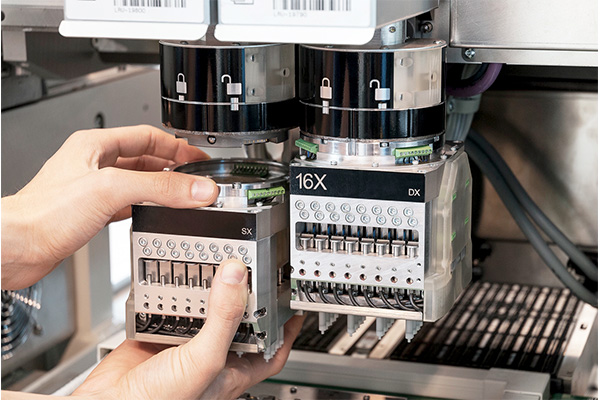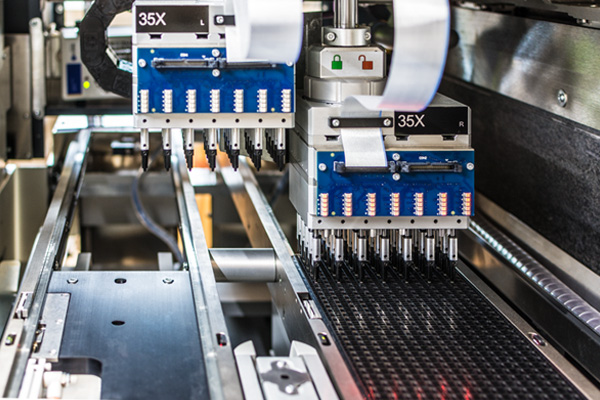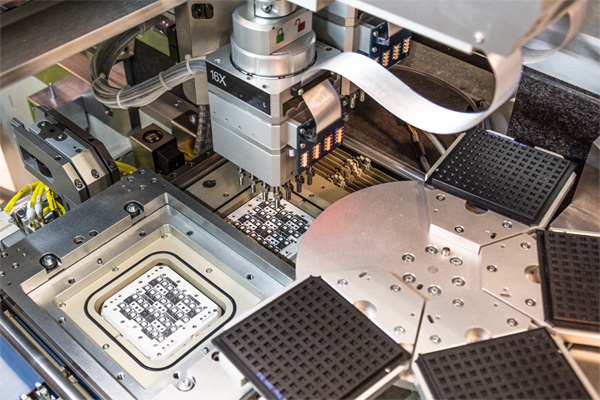 EACH HEAD IS EQUIPPED WITH A SPECIFIC PICK-UP TOOL
Main characteristics of the Pick-Up tools are:
Fast changing (less than 1 minute) and standard Osai interface (includes all the electrical and pneumatic connections)
1, 4, 8, 16, 35 sites, other multisite available on the roadmap
Independent 10mm Z stroke each single picker
Independent vacuum command and control on each single picker
Fine adjustable detaching air blow
Single site collision sensor
On picker precisor for device pre-alignment
Internal code for setup-recipe verification
NEOT-LAB
Lab Equipment for environmental MEMS
Neo T-LAB is OSAI's ultimate desk size lab test solution. With its compact size Neo T-LAB is the smallest conditioning chambers in the world allowing the R&D fine tuning directly in laboratory.
In addition to the smallest footprint, the Neo T-LAB advanced offers the possibility to be configured with several test stimuli, such as temperature, pressure, humidity and gas.
Neo T-LAB is also a tailor made solution: the possibility to design the test chamber based on customer needs, allows the transition from laboratory to mass production in just few steps.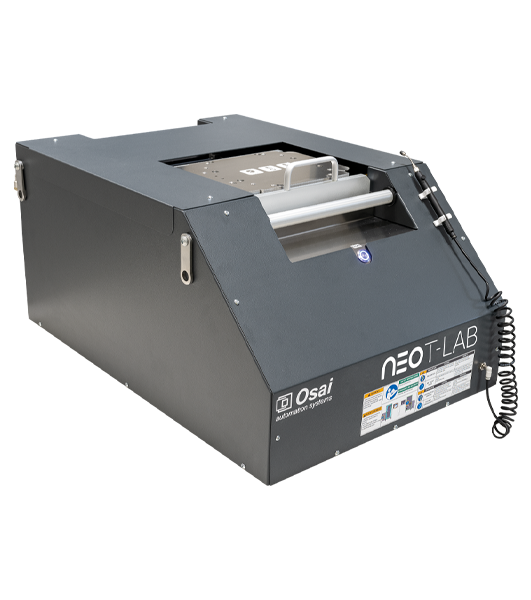 Average temperature settling time
STIMULI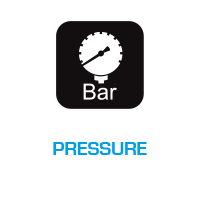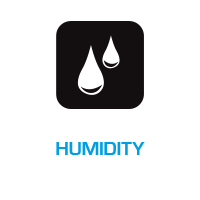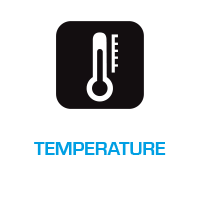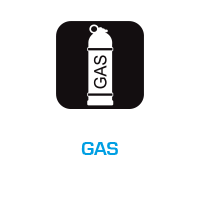 ENGINEERING PRESSURE CHAMBER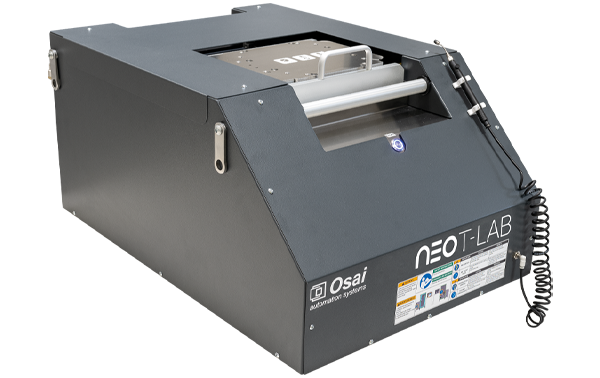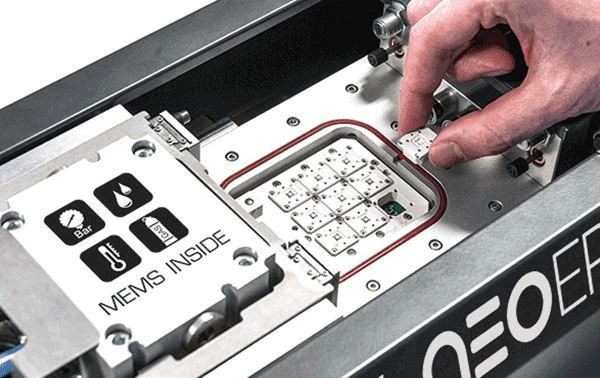 MAIN CHARACTERISTICS
Temperature range: -20° up to 80°C or -40° up to 125°C
Temperature accurancy: 0,5°C
Temperature stability: 0,3°C
Average setting time: 10s
Pressure range: 0 up to 6bar
Pressure setting time: 3s
Pressure stability: according to external regulator
MEMS communication protocol: SPI, I2C, GPIO
PC Interface: USB
HIGH ACCURATE STIMULI
Thermal stimuli unit
Pressure stimuli unit
Gas stimuli unit
Humidity stimuli unit