R&D activities represent for Osai an important activity branch. The permanent dedication to innovation allows our company to satisfy with more and more specific standards customer requests and to interact with international realities, taking part to European project, such as Horizon.
At the moment R&D activities involve inside Osai a team, that works and collaborates with experts from all over the EU.
Projects outcomes and innovations developed inside bracing fields such as international projects, contribute also to internal business development in Osai.
Projects in progress
Proposal acronym
: NEW-RE
Title: Neodymium and Rare Earth from Waste Recycling
Abstract: NEW-RE will tackle the challenge of recycling Neodymium permanent magnets and spent lamps from electronic waste. In addition, the possibility of recovering permanent magnets from electric vehicle motors will also be evaluated.
OSAI will participate in the project by working on the realisation of a prototype for the disassembly of hard disks with a fully automated or semi-automated approach.The aim is to recycle rare-earth elements (REEs) by exploiting and improving an existing hydrometallurgical treatment plant…read more
Call / Topic: KIC – EIT RawMaterials
Key words: Automation, recycling, demanufacturing, circular economy, raw materials, life cycle assessment, urban mining
Start – End: 01/10/2022 – 31/12/2024
Project duration: 26 months
Website: –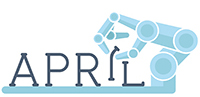 Proposal acronym: APRIL
Title: Multipurpose robotics for mAniPulation of defoRmable materIaLs in manufacturing processes
Abstract: APRIL project aims at implementing and deploying market oriented, low cost and multipurpose robots that supports semiautomatic tasks in manufacturing production lines that use flexible or deformable materials in industries of any size or domain.
APRIL will use fine grasping, innovative computational vision technology, gathering of sensors' information, as well the development of modular and different middleware layers and interfaces… read more
Call / Topic: H2020- FOF-12-2019. Research Innovation Action (RIA). Grant number 870142.
Key words: Robotics and automatic control, Automation, federated robots, flexible manufacturing, manipulation of flexible materials, robot hands
Start – End: 01/04/2020 – 31/03/2024
Project duration: 48 months
Website: http://aprilproject.eu/

Proposal acronym: VOJEXT
Title: Value Of Joint EXperimentation in digital Technologies for manufacturing and construction
Abstract: The VOJEXT project aims at providing a favourable business and technological framework to enable matchmaking and encourage producers and adopters (mainly SMEs including small crafters) of Cognitive autonomous systems for humanrobot interaction, specially "cobots", dynamizing science-driven industry approaches for the European industry. For this purpose VOJEXT will design, develop, validate and demonstrate affordable, market-oriented, agile, multipurpose and easyto-repurpose, autonomous, mobile and dexterous robotic systems as the main component of a smart, agile and scalable cognitive CPS for industry; under the vision of providing Value Of Joint EXperimentation (VOJEXT) in digital technologies to manufacturing and construction industry; while having DIHs as drivers of innovation based economic development in Europe… read more
Call / Topic: H2020- ICT-03-2020. Innovation Action (IA). Grant number 952197.
Key words: Artificial intelligence, intelligent systems, multi agent systems, Manufacturing Process Simulation, Smart manufacturing, Ergonomic and Human factors, Artificial Intelligence & Decision support, Digital Innovation Hubs, DIH, robots, robotics, human robot interaction, HRI, flexible manufacturing, Construction, continuous manufacturing, discrete manufacturing
Start – End: 01/07/2020 – 31/12/2023
Project duration: 42 months
Website: https://vojext.eu/
Expired projects

These projects have received funding from the European Union's FP7 Horizon 2020 research and innovation programme