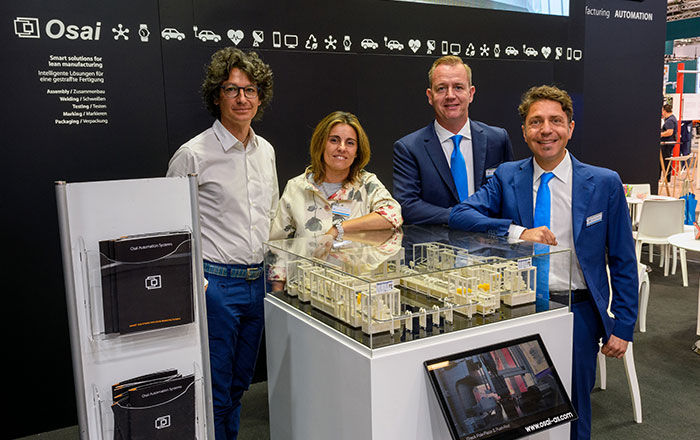 For the first time, OSAI A.S. S.p.A. took part in Automatica, the world's leading trade fair for intelligent automation and robotics, hosted by the International Congress Centre in Munich, June 21-24, 2022.
For four days, leaders belonging to the fields of robotics, machine vision systems, assembly and handling technology met in one place that has become a true technology hub and springboard for innovation.
Within this dynamic and international context, the debut of OSAI A.S. S.p.A. exceeded expectations. The booth, located in Hall A6-428, recorded a significant turnout, confirming the interest in the quality of the products developed by the company, the high technological profile of the proposed solutions and components used in addition to the care in design and every detail. There were numerous positive feedbacks for the advanced automation solutions, a field in which the company has reached a high level of specialization over the years.
Not being able to accommodate in its stand, given its size, the automation lines usually produced, OSAI presented visitors with a scale model of one of its plants made especially for the occasion by 3D printing, which was particularly appreciated by the visitors present as well as the OSAI Inspection System, a technology developed by the in-house division specializing in machine vision. The customized high-definition image processing system can recognize and detect a multiplicity of defects present on the processed components and through software processing discriminate conforming from non-conforming parts in a repeatable and controlled manner.
Automatica 2022 thus proved to be the perfect opportunity to establish new business relationships and meet with customers and suppliers to discuss, finally in presence, ideas and projects, solutions and opportunities with an overview of current global developments.
Grateful for its success, OSAI A.S. S.p.A. returns home, ready for the next challenges and programs, looking forward to meeting everyone again at the next edition!