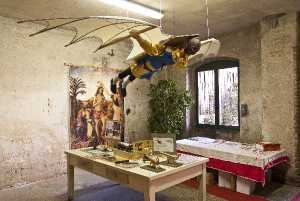 Leonardo's machinery set in ancient Papermill of Parella
Models to look and touch of Prof Covolan
From November 11 and December 2 in Parella will be held in the premises of the eighteenth-century former paper mill that houses the company Osai A.S. S.p.A., an important event in the cultural and scientific interest: an exhibition dedicated to "Leonardo's machines". The models faithfully reproduced according to the original drawings are the work of Professor Girolamo Covolan.
The drawing for Leonardo was the original vocation, the basis for his paintings and, as in this case, decisive as a project for many applications, including architectural, mechanical, hydraulics, optics.
In the exhibition of Parella visitors will have the chance to get closer to the models of machines of various types with an interactive approach, without the awe which usually is shown in front of a device, even unreferenced can understand and have fun running gear levers, pumps… This is a teaching approach as students can be encouraged to use tools, research materials and act.
The exhibition is organized by the Cultural Association Pedaneus, based in Parella and the Company Osai A.S. S.p.A. which, in addition to the impressive exhibition space, properly prepared, has provided an important economic contribution. The Cultural Association Pedaneus and the Company Osai A.S. S.p.A. put in the realization of the event enthusiasm and commitment for celebrating an important birthday: the first one its ten years of life, the latter its twenty years of activity.
In addition to the two organising partners will give their support companies and businesses in the area, the municipalities of Loranzè, Colleretto Giacosa, Parella, Quagliuzzo, Strambinello Ivrea will honour us with their patronage, as well as the Piedmont Regional Council and the Province of Turin.
Professor Girolamo Covolan, who made the models, is a former teacher of Technical Education, has always been convinced, as a good teacher, that what is experienced with the hands can be understood with the mind and makes us self-confident.
He honours us with his friendship because he is attached to our villages where he spent a period of his childhood.