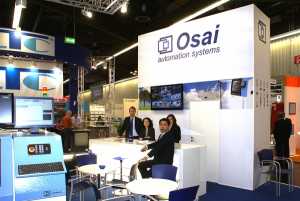 Osai Automation Systems
is proud of its success at SMT 2013: a confirmation that Osai Automation Systems fully meets current industrial requests. One of the systems exhibited at SMT 2013 is neomark twin, a Laser marking system, very important in terms of safety process product traceability. In fact, the high quality of PCB marking ensures the components traceability fulfilling the growing requests of quality guarantee.
Osai Automation Systems neoplace modula and neocut UV satisfy customers' requests as well. The neoplace modula, a THT and THR components pick & place system, meets important needs of electronic manufacturers, especially in time of energy conversion and E-Mobility. The neocut UV, a system based on the UV Laser technology to depanel flexible and thin-rigid PCB, represents a further and meaningful Osai Automation Systems contribution to the growing trend of miniaturization.
Last but not least, the neorouter modula, an in-line depaneling system, is also very interesting thanks to its flexible and modular structure.
The Osai Automation Systems exhibition team thanks all its visitors for pleasant conversations and look forward to the next event.