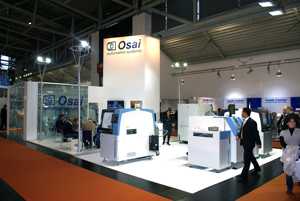 The Worldwide Market confirms its interest for Osai A.S. S.p.A. systems at
Productronica 2011
.
The interest shown for the systems of neo platform, in this international show, has exceeded the best expectations.
The about 150 visitors of Osai A.S. S.p.A. stand (around 50% more compared to Productronica 2009), arrived mainly from Europe, showed up with concrete projects to be developed on neoplace 304 modula systems (Odd-shape components assembling and finishing), neocut C400+ (laser depaneling), neorouter modula (routing depaneling), neomark twin (laser mark) and neosold (laser selective soldering).
The type of companies that reached Osai A.S. S.p.A. stand enables us to assert that neo systems platform is becoming more and more strategic for electronics in general, providing innovative solutions to different sectors: automotive, industrial, white (domestic appliances), medical, consumer and telecommunications.
Meetings and projects acquired during Productronica 2011 enable Osai A.S. S.p.A. to claim that, despite the general economic situation remaining unstable, its growth in the coming years could undergo a marked speed-up.
Osai A.S. S.p.A. has also seized the opportunity to present to clients and visitors the commercial network of international branches and distributors, to which will be added the new base OSAI China in the first quarter of 2012.