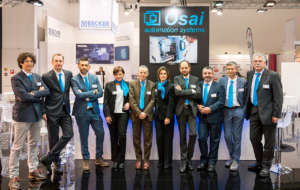 As is tradition,
OSAI A.S. S.p.A.
attends
PRODUCTRONICA 2017
(
Hall A3 – stand 458
) this year as well. Productronica is the international leading trade fair – 42nd edition – which takes place in Munich, Germany, from November, 14th to November, 17th.
Productronica is without a doubt the international leading trade fair for electronics. Future technologies, industry trends and experts from 83 countries worldwide and over 1.200 exhibitors represent an opportunity for all actors in the electronics sector. Every year ca. 40.000 visitors attend the fair looking for innovative solutions for their business in an area of ca. 77.000 square meters.
In such an important event OSAI exhibits equipment dedicated to Electronic and Semiconductor sectors.
The visitors will have a chance to look closely at some of our equipment:
OSAI is glad to launch on the market the innovative Neo TTU: a breakthrough stimulus for Inertial MEMS (3 axes accelerometers and gyro), combining high accuracy performances with impressive throughput.
An information panel in the stand is dedicated to European project ADIR – financed by the European Community and supported by Vodafone and Deutsche Telekom. The project, coordinated by Fraunhofer Institute, aims at creating a process for separation and recovery of valuable materials from old electronic equipment (cellphones, tablet, etc), using the best technological solutions supplied by all European partners in a 5-year period.
OSAI focuses on the LASER process development to separate welded electronic components with rare and precious metals; it is the only Italian partner involved in the project, chosen by Fraunhofer Institute.
OSAI TEAM is glad to meet you in our stand (Hall A3 – stand 458) to show all innovative solutions we have to offer.