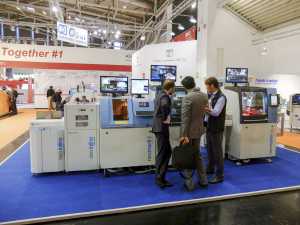 After four days, the outcome of the 20th
Productronica
was very positive: about 38,000 visitors from 83 countries participated in the international trade fair for innovative electronics production in Munich. A total of 1,220 companies from 39 countries presented their innovations and solutions on 41,242 square meters of exhibition space.
Osai recorded a large number of visitors and encouragement on the productronica. The expectations were far exceeded. This shows that the Osai A.S. S.p.A. neoseries offer innovative and attractive solutions for the electronics manufacturing.
At the exhibition, new products presented were e.g. a new Laser depaneling system for printed circuit boards with integrated pick-and –place-handling, new radial feeder and a new electric gripper system for Osai A.S. S.p.A. placement systems. This continues the ongoing development of neoseries and provides interesting solutions from a technical as well as from an economic point of view for the already existing and new systems. The great interest and positive feedback is our motivation to pursue the path further and to further expand the product portfolio of the neoseries.
The Osai Automation Systems exhibition team thanks all visitors on the stand for the interesting discussions and the positive feedback. We look forward to welcoming you on the next exhibition.