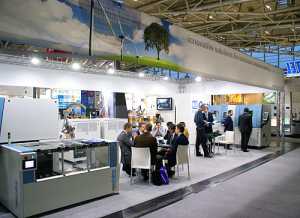 The
Productronica 2009
trade fair took place in Munich, Germany, from 10 to 13 November. Productronica is one of the most important world exhibitions of production processes for the electronics sector.
Osai A.S. S.p.A. took part in the event with its own stand, where visitors were able to view and find out more about the most recent new products, some of which were shown here for the first time.
There was a considerable range of new products on offer from Osai at the trade fair: Neoplace (assembly of odd-shape components), Neocut Plus (laser depaneling), Neomark (laser marker) and Neosold (laser selective soldering) and the latest Neomark Twin (laser marking with CO2 and YAG double source), Neocut UV (Kapton and flexible circuits laser cutting systems), Neomark opto (for measuring the main spectrometric characteristics of LEDs and marking with laser on PCB) as well as various systems dedicated to the world of handling.
In spite of the difficult climate of global crisis, attendance at the trade-fair was good and the Osai A.S. S.p.A. products, with their strong, distinguishing features of innovation and quality, were of particular interest to the 100 plus companies who entered into commercial contacts.
This concrete interest shown by visitors gives Osai A.S. S.p.A. reason to claim that the Productronica 2009 event has allowed it to consolidate, also in the European field, its role as partner for companies in the sector of electronic assembly; this role has been further strengthened by the recent birth of its German subsidiary OSAI Automation Systems Gmbh.