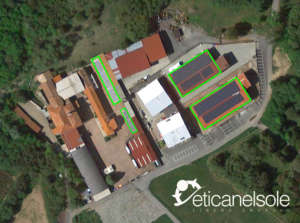 In
Osai A.S.
the respect for environment represents a very important issue.
One of the most representatives values of our company is the creation and maintenance of an healthy, comfortable and cosy workplace.
Due to these values
Osai A.S.
undertake Itself to measure and manage the environmental impact of its production and activities on Society and Community, in order to be considered an element of Canavese region's wealth.
To respect its promise our leadership decided to adopt a SGA (Sistema di Gestione Ambientale) to reach a good pollution prevention's level, and in 2016 the Company started to be in part energetically independent, thanks to an important project launched in 2016.
Osai's goal it's about produce green energy, drain produced power inside our plant and place on national energy market exceeding energy.
Starting from September 2017 Osai has 3 photovoltaic systems, settled on OSAI's three main buildings, that guarantee an overall power of 220 kWp.
There are four main aims for this investment:
– Green energy production.
– Self-consumption of auto-produced energy, reducing consumption's level of traditional electrical power.
– To reach energy independence in new production areas.
– Replace traditional thermal plants (methane gas) with more efficient systems as heat pumps (electrical).
During these six months our system produced 133,43 MWh of energy and saved 52K CO2's Kg emissions, the equivalent of 175 trees planted.
The whole project has been guided by Etica nel Sole, our Italian partner that planned and implemented the photovoltaic system in OSAI A.S..
This collaboration allowed OSAI A.S. to achieve the goals set in time with an high level of performance.
Working with people of Etica nel Sole has been a pleasant experience, particularly referring to their approach to work and the people's enhancement.
Etica nel Sole it's a cooperative that promotes sustainable development, and proposes Itself as a socially responsible company that positively affects the environment and promotes positive behavior of citizens towards the environmental context. The cooperative it's composed by a group of people who believe in the ideals of justice, sustainability and who have combined their different skills to make their values concrete. They propose many solutions, as: photovoltaic systems, high efficiency heating systems, LED, also for companies.