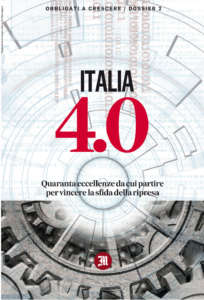 Avio, Eni, Fincantieri, Piaggio, Pirelli, Technogym
and
Tim
are just a few of Italy's top
40 excellent
companies that, together with
OSAI A.S. S.p.A.
, talked about themselves in an insertion in "Il Messaggero" entitled "Italy 4.0, the forty excellent starting points for economic recovery" published last July.
Regular investments in research and innovation, a solid management structure, alternative financial resources, and consolidated exports, are the main characteristics behind excellence and profits.
The importance of strong, constant exports is also highlighted by the figures in the publication, which points to a 10% increase in these companies' exports with a +25% in China.
For OSAI, too, as confirmed by Company President Mirella Ferrero, the company's positioning on international markets is strategic. OSAI's exports have grown from 25% to 85% over the last five years, and the Far East is now a reference market.
OSAI's inclusion in the top "40 excellent companies" is doubtless important recognition of the company's operations, also encouraged by figures from the last six months that show exceptional results, such as a 50% increase in turnover compared to 2016, taking the company towards its 30 Million Euro objective. These are results, stresses the Company President, that we have achieved thanks to an industrial vision and strategy defined over the last few years, and which has materialised today thanks to a favourable financial situation and market conditions.
These are doubtless positive elements for investors who have chosen to believe in OSAI by subscribing to the mini bonds in support of the company's development projects.
The Management at OSAI A.S. S.p.A. would like to thank the "Banca dei Territori di Intesa Sanpaolo" for nominating the company as a successful Innovative SME, after selecting it, a few months earlier, for the "Sharing Italy" project, which includes 150 small and medium enterprises, which the bank itself looks after and assists, not just in financial terms.