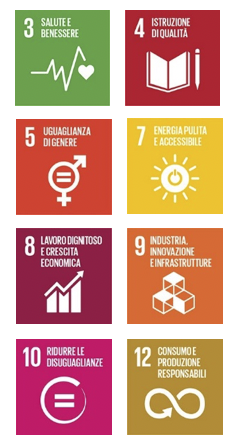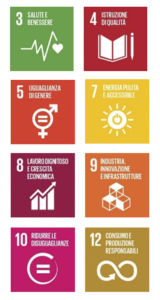 Osai has always been looking for challenging objectives to be achieved both in the technological field and in the way of doing business so that the achievement of these results can create added value not only for the company but also, and above all, for those who are part of it and for the territory that hosts it; for this reason the management has been following the objective of sustainability expressed by the ESG rating for long time, also basing on principles set out in its code of ethics.
The ESG rating (or sustainability rating) is a synthetic judgment that certifies the solidity of a company from the point of view of environmental, social and governance performances. The ESG rating is developed by agencies specialized in collecting and analizing data on the sustainability aspects of companies.
In 2018, the Company decided to promote and take inspiration from the UN Sustainable Development Goals by committing itself, in corporate life, to promoting human well-being and protecting the environment by focusing on 8 of the 17 Millennium Development Goals taken from the UN's 2030 Agenda and adapted to the company size and its application spectrum and impact in society, especially: health and well-being, education and quality, gender equality, clean and accessible energy, decent work and economic growth, industry, innovation and infrastructure, reduction of responsible inequalities, consumption and production.
For this reason OSAI every day pays attention inside its strategies to three socially sensitive aspects, such as: policies on people, such as rights, work standards and relations with the civil community; governance, with behaviours and policies regarding the company's top management in order to comply with the laws and guarantee controls on its own work; the environment, focusing on the impact that its activity entails.
Just within this last area, in the month of April 2019, OSAI obtained, also thanks to the ICIM (organization authorized by ACCREDIA for the certification of management systems) the Certification of its Environmental Management System (EMS) according to the requirements of ISO 14001: 2015 standard, that certifies systematic control of the actual and potential environmental impact of company processes and products.
The certification is the result of two long years of work and continuous improvement and represents another starting point towards new goals.
For more information on corporate ethical, environmental and governance policies, please refer to the dedicated page for documents related to the various sections.