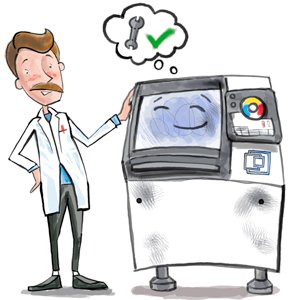 For the OSAI A.S. attention to its costumer has always been a priority and renewing is certainly the best way to ensure a constant and high satisfaction level of our audience.
Due to this reason, starting from 06/01/2018, the Osai assistance service will be updated, with the implementation of a new service platform, which will guarantee a more rapid and efficient answer to assistance requests.
Thanks to a simple and intuitive interface, the user can access his private area. Inside this area it will be possible to request support, supervising the status of requests and draw on content or personalized communications made available by service staff.
The online service platform will be proposed as a unique and priority channel for all needs related to the OSAI's products after sales services.
Accessing to the online service will be simple, just sign up in the Service section of the Company's website at the following address.
Once logged into the reserved area, simply follow the instructions for opening a ticket by entering the minimum information necessary to allow the best analysis of the problem and its management.
To guarantee a better service, we ask customers to send assistance and support requests, after May 31, exclusively through the new online platform.
To facilitate the approach to the new service, the Service staff will be at the complete disposal of customers for any need and support during the registration phase and for the creation of assistance requests through the platform.