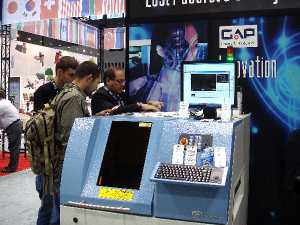 After 6 exhibition days the
IMTS
in Chicago may be to be considered as a great success.
From September 10 to September 15 the most important exhibition for machinery of America took place in Chicago. Exhibitors presented their latest products and new developments in CNC, LASER systems and robotic systems to more than 102.000 guests. For OSAI Automation Systems the IMTS has been a great success, as there were collected a lot of new contacts.
The neomark UV with a special application for marking on plastic was exhibited and guests looked very interested to the process shown during the exhibition. The exhibition was held in partnership with two other companies: GAP LASER and LNA with which Osai AS works profitably. The entire staff of Osai Automation Systems would like to thank everyone for the welcome and productive talks.