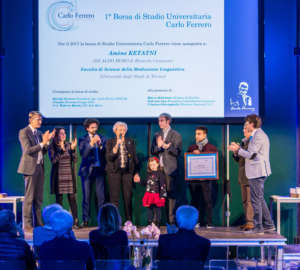 The Carlo Ferrero Association – ONLUS has awarded its first university scholarship
On 22 December 2017, the Carlo Ferrero Association – ONLUS, together with the Canavese Young Entrepreneurs' Group, awarded the 1st university scholarship in memory of Carlo Ferrero, Canavese businessman, who died in 2015.
This award, created at the wishes of the Ferrero Family, was set up to finance university studies for deserving students from Canavese with particular family and financial difficulties, covering all of the costs met by the student during their undergraduate and graduate degree courses, up to a maximum of 60,000.00 euro for the whole course of study.
In September 2017, at the end of a period of assessment of the applications sent in, a list of names was published on the Association's website and the scholarship was awarded to one of these candidates: Amine Ketatni, a recent graduate (2017) of the Aldo Moro Higher Education Institute in Rivarolo Canavese, who was awarded a scholarship for the 2017-2018 academic year.
The official presentation of the scholarship award was held on 22 December 2017, during an end-of-year event organised by OSAI A.S. S.p.A. in the newly inaugurated Parella plant.
Amine, who will be continuing his studies at the Faculty of Translation and Liaison Interpreting at the University of Turin, was presented the award by the President of the Association, as well as President of OSAI A.S. S.p.A., Mirella Ferrero (sister of Carlo Ferrero), accompanied by: Claudio Ferrero – President of the Canavese Young Entrepreneurs' Group, Fabrizio Gea – President of the Canavese Confindustria, and the Mayor of Parella, Marco Bollettino.
"Awarding this scholarship," said association President, Mirella Ferrero, "is the start of a series of initiatives that the Carlo Ferrero Association – ONLUS will be organising over the coming years for disadvantaged people living in the Canavese area. The final aim is to make the most of people, in the widest possible sense of the term".
Carlo based his activities and business on this fundamental aspect, since the very beginning of OSAI, and these initiatives are a way to commemorate that.
Supporting the Association's projects will need contributions from all those who believe in its aims and who would like to commemorate Carlo Ferrero in some way through the Association. This is why it is possible to make active contributions through the Association website Carlo Ferrero Onlus, giving a sum of choice, choosing to pay the 5×1000 donation from income tax, or becoming a member of the and participating actively in the Association's work.