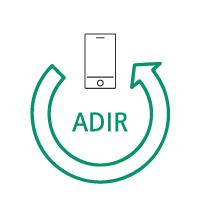 Our innovations don't arise just inside our headquarter: Osai A.S. S.p.A. takes part to several R&D projects , supported by EU (Horizon 2020 research and innovation programme, and FP7 programme) that thanks to collaboration and work performed together with international partners turn themselves into new processes and technologies for the future.
Since 2015 Osai has been involved in ADIR project (website) whose aim is to realize an automated disassembly system for high-value metals recovery from neglected electronic equipment (pc, tablet and mobile phones).
The project wants to realize a new technology for the exploitation of urban mining, composed by electronic small dismissed electronic components and from which next generation could recover rare and high-value metals, not easy to find inside nature today.
Osai task is to design and develop a system for electronic components within which are contained precious metals such as Tantalio, Tungsteno and Neodymium.
The process designed by Osai and carried out with the demonstration station is based on various technologies: image processing, robotic handling, pulsed power technology, 3D Laser measurement, real-time Laser material identification (to detect materials), Laser processing (to access components, to selectively unsolder these; to cut off parts of a printed circuit board – OSAI' roles), and automatic separation into different sorting fractions.
Currently a demonstrative ADIR station is installed inside a German recycling company where it will be used and monitored to collect information on the field and for process checking.
Recycled materials obtained will be analyzed carefully in order to better evaluate their potential for re-use.
The ADIR project, is fully supported by the European Community with the cooperation of various between major companies such as Vodafone and Deutsche Telekom, is coordinated by the Fraunhofer Istitute, the largest European research institute and it expects to be completed in 2019, when it will be possible to evaluate mass production's possibilities.
To know more: