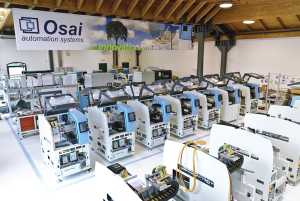 Looking back on numerous successes and 1,500 machines installed, the commitment and passion are still the same like when we started in the family garage.
The dream of building something important is always fed by the will to take up new challenges. Consequently, we have now innovative projects and important partnerships. Over the next 20 years we will not have time to waste!
Since the beginning in 1991, I had the aim to set up the Company on a human dimension, where each person may have the opportunity and the serenity to express its potential at maximum. Our staff is our main value; past and future of the company rest on their quality and capacities.
Our first job order in 1992 was a machine for roller assembly for copying machines. Even today automation of subassemblies in small dimensions is worth more than the 50% of the sales.
The cooperation with a LASER sources producing company allowed us to get to know and to develop this technology. We already produced 300 machines placing the bases to the development of many future products. With this experience in 2004 the Neo family was born, a series of machinery able to use Laser marking, THT and ODD Shape components assembly, selective Laser soldering, depaneling by Laser or by routing tool and Laser trimming of electronic devices.
I would like to stress that we do not sell machines but solutions. This philosophy allows us to grow steadily. Up to five years ago only 5% of our products were marketed outside Italy, while in late 2012 50% of our production will be sold outside Europe. Over the past two years we have established distribution offices in Europe and Brazil as well as subsidiaries in Germany and China. 2013 will be dedicated to expand into the United States and Mexico.
Many of our technologies are born to meet the needs of our customers: the machines are modified and adapted according to the specific requirements of each customer. Our investments are partially aimed to develop a new family of products that may fit into the technology of the semiconductor market and the thick-film hybrid technology usually based on ceramic, silicon and SIC.
We believe devoutly that virtuous companies, full of ideas and determination, even grow up in times of uncertainty. Osai A.S. S.p.A. has the values and the people to keep being this way.
by Carlo Ferrero (C.E.O.)