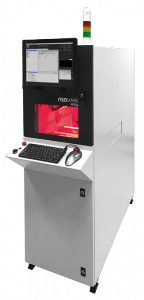 On 8th November, the company held its first European Sales Meeting, aimed at European distributors on the occasion of OSAI's 25th anniversary.
During the meeting, as well as providing dealers with information about the company, the organisation and sales figures, a good deal of time was dedicated to presenting the new Neomark Easy and to the organisation of the new service.
The presentation of the Neomark Easy system was met with a good deal of interest, confirmed during the demo, where those present were able to get hands-on experience of the product's prospects and therefore, of the sales potential. The first impressions were decidedly positive and confident, with forecast for possible sales in 2017 of 70-80 systems on the European market alone.
OSAI's first European Sales Meeting was met with great interest – confirmed by the excellent attendance. It was also an important occasion for ideas and suggestions from discussions with our dealers. An open, practical climate where it was possible to share and develop common strategies.
In view of the success of the first edition, another event is planned for September 2017.